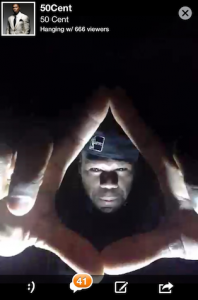 50 Cent, Timbaland, and Terrel Owens…What could these three celebrities have in common? Hip Hop, phat bank accounts, entrepreneurship? Good guesses and probably true, but in this case think mobile–not car, but smartphone! These business savvy millionaires are new investors of a mobile app called "Hang W/", pronounced "hang with."
So what does Hang W/ do? It streams live mobile video to mobile users in real time.  For example, if Timbaland or 50 wanted their fans to join them in the recording studio as they were producing a new single, they would use Hang W/ to stream it live to their followers' mobile phones and chat with them in real time.
Since his investment, 50 has used the app to exclusively launch new music, videos, and of course scenes from his real life. Owens has used it to bring fans along with him to workout, while Timbaland logged on recently just to talk with fans about his excitement about the app.
In my research some describe it as bringing reality tv to mobile.  That idea alone could get a lot of people in trouble especially when celebrities began acting badly!
But on the good side, the possibilities of using Hang W/ for good are endless! Now, you, me, and celebrities can take our audience EVERYWHERE with us and share what we're doing in real time! Forget recording, editing then publishing minutes to hours later, dive right in instead and start live streaming!  I see so much potential for those with an established audience.
For those of you without a large audience, Hang W/ might be a good way to stand out from the usual YouTube, Instagram crowd.  Very few online content producers share stuff LIVE and mobile at the same time.  So, even if you're not a celeb nor a notable, you can grow a following.
Seems Hang W/ minority investor, Terrel Owens, agrees.  Watch this interview as he explains Hang W/'s benefits.
One more thing that makes this Hang W/ worth trying is unlike Google+ Hangouts you can live stream right from your mobile through your Facebook page, according to Hang W/'s official website. And of course, you can share your archived "hangs" on other social profiles too.   Learn more benefits of the app by checking out the official
website.
Image Source: http://www.pinterest.com/pin/344032859005626835/