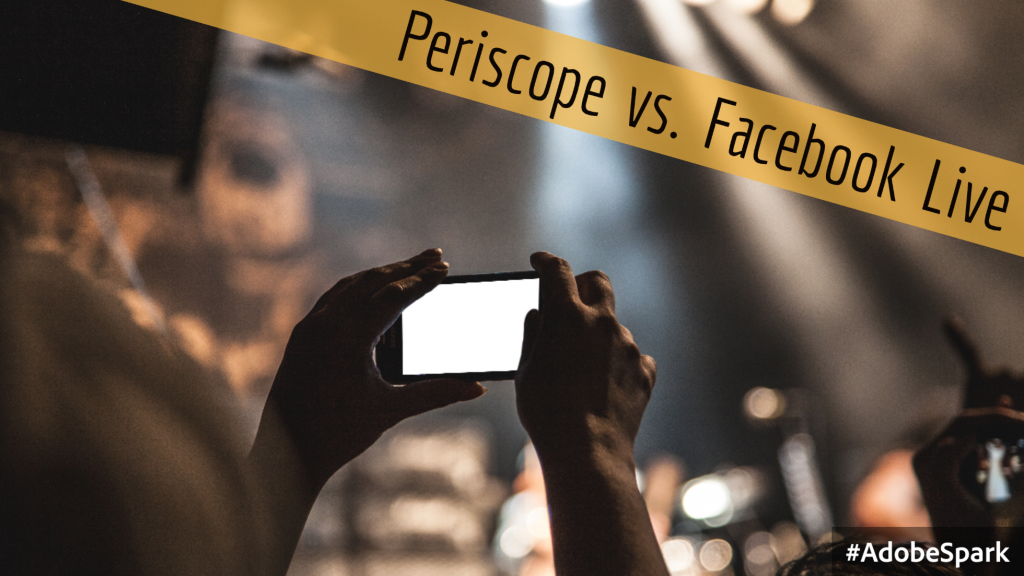 "2016 will be the year of live streaming," says Dioni L Wise, writer for Paceco.com, a publication leader in content marketing. Want proof? Look at how quickly apps like Periscope and Facebook Live have come into existence. In fact, mobile video consumption increased by 616% according to OOYALA's Global Video Index. So Periscope versus Facebook Live, which of these mobile live streaming platforms is getting the most attention right now? And which is best for you and your business?
Periscope Verses Facebook Live: Team Periscope
As of August 2015 almost 10 million users are streaming via the live streaming app backed by Twitter.  Beyond a big boost in users, it's ease of use, and those colorful hearts, there's also been some major changes since my last post that have helped it maintain its popularity.  They include:
Saved streams! Your scopes are no longer just available for 24 hours, they are now saved by default. YES!
Finding interesting scopes to view was made easier with its global map and enabling search for hashtags and keywords
Scope highlights or trailers that give you a preview of scopes on the homepage and elsewhere
Borrowing a tool from Snapchat, you can now draw on your scopes
You and your viewers can help combat trolls by blocking them in real time and disabling them from chatting
On Twitter? You can watch and create your scopes within the Twitter mobile app
So what are the cons of using Periscope? As a user, Periscope doesn't have an "in-house" audience.  You'll have to attract and build you audience. And lastly, Periscope streams can be choppy.
Periscope Verses Facebook Live: Team Facebook Live
With nearly 2 billion people using Facebook all now have access to Facebook Live.  That's a lot of streaming and potential content to consume on mobile and computer! So what's currently giving Facebook's live stream tool a leg up in it's competition with Periscope?
Facebook is familiar so currently it doesn't require a separate app
You can stream to your Facebook group, profile, or page but NOT at the same time. So you already have an in-house audience familiar with your content.
Facebook provides the tools allowing users to do a multi-camera broadcast through Facebook live which cannot be done in Periscope.
Unlike Periscope, Facebook comments do not natively appear atop of the person streaming. Instead they appear below or to the side, making them less distracting. Same is true for shareable hearts and emoticons.
Want to stream from your desktop or other cameras? You can do that with Facebook Live using provided Facebook tools and 3rd party applications.
And traditional media outlets–NBC, ABC, etc– and other networks are now streaming original content just for Facebook audiences.
So when it comes to Periscope verses Facebook Live, both have unique benefits. So what are the cons? When using Facebook Live, users often experience a 6 second delay in timing. The broadcast quality can be lessened and compared to Periscope, to our knowledge, Facebook live cannot be streamed via Apple TV.
Both platforms are useful for staying engaged with your fans and followers. They are also useful in creating engaging videos for your business–launch a product, conduct a live Q&A, share your expertise.
As to which of the two platforms are better for you business? Try both! You may find them both beneficial for different reasons and audiences. If you're using either tool, share below how you're using either Periscope or Facebook Live.