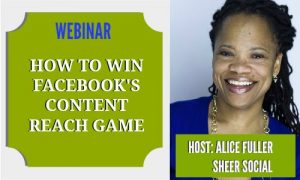 FACEBOOK FAN PAGE ADMINS!! Seeing a major drop in your fan page's content reach and engagement since the new Facebook changes?
Are you considering leaving Facebook for real this time, but don't want to leave the audience you built there behind? You aren't alone!
Click this link to attend NEW WEBINAR, MAY 13th at 6:30 PM, and learn 13 ways to get your fan page content to its audience better.

By now you've probably heard that Facebook has made another change to how it feeds content to our newsfeeds.
This newest algorithm change makes it even more difficult for businesses and entreprenuers to reach those that have liked their fan pages.  That means you're not connecting with existing leads on your page nor able to attract new ones!

The obvious solution? Buy ads! But there are other ways to do it.

During the webinar I'll share 13 WAYS to get your fan page content seen by more people than Facebook's algorithm allows.
These proven methods will help you:
Not only boost reach, but also engagement amongst your targeted demographic.

Learn to measure results beyond mere fan page likes

Better develop a content strategy for your page

Lessen your frustration so you can use Facebook more beneficially

On Facebook here's what an attendee of my recent strategy workshop had to say:

After registering you will receive a private link to participate in the webinar.  The link will be emailed to you the day before the event. So be sure to check your spam folders.
Registered attendees will receive a recorded playback of the webinar! Reserve your spot now! Click
There will be no refunds. Let's play the Facebook content game to win!
See you soon!
Alice