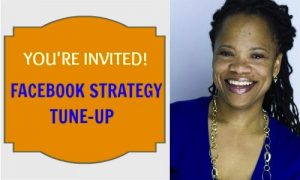 As a small business owner or professional are seeing your fan page content reach and engagement lessening?  Are you getting frustrated like most in trying to figure out what works and what doesn't? Or, if you've just begun a new Facebook business page and aren't quite sure how to use the tool to attract new business and engage with your current customers then join me for a Facebook Strategy Tune Up, April 29th, at Office Slice in Sherman Oaks.
In Part 1, the Lunch-N-Learn at 11:30 AM you'll learn:
What exactly is Facebook's Edgerank and how it impacts your Facebook Fan Page
Effective strategies that will  lessen  frustration in your posting efforts and see measurable results
Content creation tips and a list of tools that will help you generate better engaging content
Click http://bit.ly/FBLunchNLearn to RSVP and have a clear understanding of what it takes to have a strong presence on Facebook now with the current changes.
In Part 2: The Deep Dive into Facebook Workshop at 12:30pm you'll learn:
How to properly create your first Facebook Ad. We'll go over it step-by-step!
How to correctly target prospects and leads in creating your ad
How to measure results of your ad campaign
This workshop is ideal for you ready to invest in Facebook advertising and are ready to take your marketing on the platform to the next level. If you've tried Facebook ads before and got less than desirable results, then you too should attend.
Click http://bit.ly/FBTuneUpP2 to attend this workshop and learn what you need to really use Facebook successfully to grow your business and attract new leads using ads.  Be sure to bring your computer!
I highly recommend attending both events! Why? If you're going to be successful on the social network, then you must adapt to its newest changes and "tune up" your current strategy.  What may have worked just last year, may no longer so you must update your methods!
Whether a newbie or have had some experience, these events will help you better understand the new focus of Facebook and make the necessary changes in your efforts to have any measurable success.
So I look forward to seeing you at Office Slice, April 29th! If you have any questions before hand, please comment below.  And be sure to share  this post with fellow friends and  professionals that you feel need to tune up their Facebook strategy.