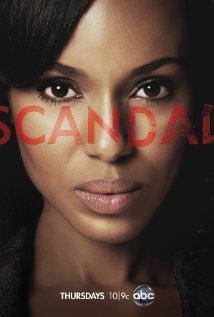 When our television viewing habits become aligned with our online habits we–meaning social media marketers–call it, "SocialTV".  The "social" denotes not only the various platforms of social media, but also the social interaction that takes place on these platforms during tv shows and events.  And on Thursday nights, this phenomenon takes place beautifully on Twitter during ABC's "Scandal."
When the initial tweets and Facebook status updates begin, you'll see thousands of viewers first checked-in to the show. If you follow this blog, you know check-ins are done generally via "second screens" (mobile or tablet) into a place, space, or event.  But they can also be done on computers through SocialTV applications like Foursquare-esque, Get-Glue, Miso, and Philo to check into tv shows and televised events.
Social Media has made #Scandal unstoppable. I don't think any primetime show has a fanbase that is as invested or active as this show.

— Queen Chrissy (@iAmChrissyRene) March 22, 2013
    With these apps you don't have to go anywhere at all to check-in to your favorite tv show and start chatting with fellow fans or casual viewers. You do, however, have to be diligent with some if you want to be awarded stickers or badges. And people don't mind when it comes to supporting their favorite show!  According to USAToday.com GetGlue already has 4 million users and 75 major networks partnering with it. Some networks are even developing their own SocialTV applications, while others are sticking to their established social profiles to engage with fans, which bring us back to "Scandal".
What We Can Learn From #Scandal's SocialTV Strategy?
Every entertainment producer whether tv, film, and even web, by now should now how important social media marketing is to a show's success.  Twitter is a great tool.  Why? Despite its character limit,  it's ideal for online discussions and gauging audience feedback quickly.  In fact, it's become such a useful tool, that Neilsen and Twitter have established a unique socialTV rating.
Series writer and show runner, Shonda Rhimes, obviously understands not only the uniqueness of her show, but also its audience. The very controversial nature of the sexy show evokes conversations–conversations we would've had on the phone (and still do), during lunch, or gathered around a cubicle several years ago.  So as a show writer/producer, Rhimes seemingly knows you gotta give audiences something that compels them to want to share an opinion or emotion via twitter or other social platform concerning your show.
Plug it in & tweet away lol RT @collegiate84: I know damn well I should've had this phone charged for #Scandal. — Statuesque by Design (@Forever_Tasha) March 22, 2013
The writing on "Scandal" is brilliant and Twitter fans appreciate a tweet-able line.  "Is your vagina a-political?" I guarantee is a Twitter favorite and on a t-shirt  or on  some lingerie right now. If it's not, just wait for it. It's coming!
"Is your vagina apolitical?"HA!@scandalabc

— jacque reid (@jacquereid) March 22, 2013
And since networks don't own Twitter, Facebook, and other similar platforms conversations can flow freely without much policing. Yes, that means even the haters and the ignorant can voice their opinion too. But the beauty of having a loyal internet audience is that real fans often run off the trolls. So online communities often police themselves. That's what online #Gladiators do!
Rhimes also understands you don't wait until your show is on the air to get active in social media. As a producer, especially an up-and-comer or  unknown, you're now expected to have a presence on at least one social profile.  Allowing people to get to know YOU not just your work is important in making a much needed human connection with audiences.  People connect to other people THROUGH social profiles, not the profiles themselves.
"Scandal" producers also strongly persuade cast members and writers to live tweet during the broadcast of the show. Fans get so excited to receive acknowledgment from stars and celebs that often they become super fans of the individuals not just the show.  And when that famed or noted individual doesn't show up, the fans notice. Who doesn't like to be missed? And did you know that  the real Olivia Pope, Judy Smith, who is also an exec producer, tweets about the show?  How cool is that!
@iamchrissyrene that's because the cast/crew interacts with their fans #Scandal

— Sharra Euwing (@CrzyBeautyShar) March 22, 2013
Of course, setting some ground rules on what show info can be shared is crucial. But the point of having that interaction online with fans is that it leads to heightened marketability offline too. What the network won't do as often, individuals can.
Where the network may promote of upcoming interviews, magazine features, and show related events, the actors give it a more personable perspective via behind-the-scene photo, video, or just funny tweets and updates. And those go viral more than those from the network or business themselves. Again, it's that personal connection.
And that human touch on a digital platform is what keeps fans watching and engaged across various platforms. Keep in mind, audience can also watch "Scandal"  via mobile phone and tablet thanks to ABC's second screen apps. That's a whole other audience that show related content could be created for by using what we call, transmedia storytelling!  I'll get to that in another blog later.
And here's where the power of asking comes in.  As indy artist turned Twitter celeb, Amanda Palmer, can attest, when you've made a genuine connection with your audience, you can ask for your message to be spread via RT, share, repost, etc and it will be.  You can ask for almost anything, but don't abuse nor misuse the social influence.  Fans can love you today, and hate you minutes later via the same social platform.
And when fans REALLY love a show they'll take to creating their own show related content–avatars, cover photos, Pinterest and Instagram images, and videos about it.  And as fellow content producers, you should let them and not overly worry about copyright this and that. Give fans some room to be creative with your content.  Such promotion comes free and can be used to further market your show and engage with fans. It's a win-win if handled correctly. Check this Scandal fan made video and others on this woman's channel:
So while you're busy watching "Scandal" on TV, witness the beauty of a well planned social media strategy come together online! Even Olivia Pope, herself, couldn't do it better! If you're a fan of "Scandal" then #Gladiator suit up and comment below on how socialTV plays a role in your enjoyment of the show.