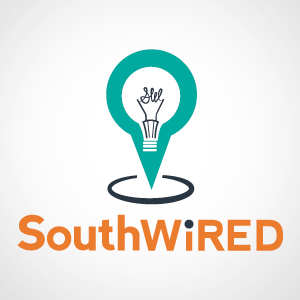 October 6th opened the SouthWired 2014 digital conference in Atlanta, Ga. There was lots of panels, presentations, expert advice, and networking, all in the name of digital marketing and creation. And speaking of presentations, I delivered one of the first on opening day called, "Google Helpouts: The Marketing Tool You Should Be Using, But You're Not."
Unfortunately, I could not make it to SouthWired 2014 physically, but thanks to the power of technology I "beamed" my way there via the same tool my presentation was about, Google Hangouts. Technically, you could say it was more of demo not just a presentation.
Big shout out to Jazmine Hudson, that helped me pull it off. You can see us here in this pic. That's ME on the projector screen! LOL
I've mentioned Google Hangouts before–read that here–but that was long ago by social media's time table.  Just in the last month it's gone through some important changes and  added some nifty tools that make it ideal for content creators, businesses, and professionals.
So in my Power Point presentation, not only do I discuss Google Hangouts, I also share stats concerning the rising demand for video conferencing, compare  Skype and other webinar platforms to Hangouts free model, and introduce Google's newest Hangout add-ons–Applause, Live Q&A, and Showcase.  There's also mention of Google Helpouts.
View my SouthWired 2014 presentation below to get up to date on the benefits of Google Hangouts for businesses and professionals
If you're ready to learn how to use the tools of Google Hangouts, Hangouts On Air, and Help Outs to grow your business, schedule a 2 hour 1-on-1 training with me, aka a boot camp, on my Google Helpouts page. And while there read the reviews from other clients that are now using Hangouts to create valuable content and monetizing it.
Click "Google Helpouts Profile Page."