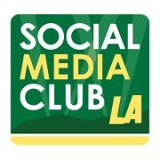 So you missed this informative event produced by Social Media Club Los Angeles (SMCLA) on business-to-business (B2B) social media marketing. No worries! Sheer Social was there and below thanks to the nifty curation tool, Storify, you can see and read some of what you missed. No need to send me flowers, you can thank me by commenting below and sharing this post on YOUR social profiles.
Now scroll through and take note of the great tips and insights shared by the panel, hosted by fellow SMCLA member and Social Media Compliance Trainer, Eric Schwartzman. There's some great jewels of information in these tweets from the event about B2B social media marketing that could really help you in your business. And be sure to check out Social Media Club LA's website or Facebook fan page for details of the next event.
Social Media Club LA: B2B Social Media Marketing
Live tweets from Social Media Club Los Angeles' (SMCLA) March event on B2B Social Media Marketing. Panelist include: Erick Brownstein, YTM, Rachel Luxembourg, Adobe; Stephen Gundee, LinkedIn, ; and Lauren Buchman, Yellow Bike Mrktng.
Storified by Alice Fuller· Wed, Mar 20 2013 10:07:17
My graphic is on the event program. Kind of proud. #smcla #imadethis #graphicdesign #rookie #nerdAJ
Great crowd tonight at @smc_la #smcla's #b2b and #socialmedia event! @laurenjbuchman @socialmediaclubCup Of Joe Social
@Sheersocial @websuccess @AmandaJoy You're quoted in "Summary: Understanding B2B Social Media with #SMCLA" http://sfy.co/iGbR@serena
Great job, #SMCLA'rs! We're trending! @smc_la #B2B http://pic.twitter.com/n1tdp5TLjpChris Lam
Never promise sales during the activation of a Social Media plan. Good advice #smclaJanette Speyer
Social media is not community, it's one on one engagement with the brand says @rlux from Adobe. #smcla via @SheersocialMichelle Magoffin
Community is everything when it comes to @adobe and it shows. You guys ROCK. @rlux thx for being here ! #smcla #notsuckingup #B2BSteph Belsky
The best community managers are like farmers. They weed out the OT convos. Fertilize the on topic ones. – @ericschwartzman #smclaSocial Media Club LA
Training, education still needed for #socialmedia rookies & employees who run their biz sm platforms. #smclaChris Lam
@sheersocial @jaumeprimero @hollywoodlvwork @stephencaggiano @educationnews1 @amandajoy Learning #socialmedia #b2b #b2bsocial at #smcla TY!Ken Waggoner
RT @serena: Difference between B2B vs B2C? Slower time tables, more decision makers but still appealing to heart and emotion. #smclapadma mdia & mktng
Wow. @rlux is #Killingit on the #smcla panel. Seriously – don't miss the next panel, people. This is awesome. http://pic.twitter.com/6ZbbGoap3CAJ
Advocacy groups on G+, FB and @Linkedin are really good for B2B engagement marketing programs #smclaJanette Speyer
@Zappos has a social media bootcamp for ALL employees. #smcla @LaurenJBuchmanVictor Garcia
Good social niche groups take time to build. #smclaJanette Speyer
Great information at Social Media B2B event!!!! #smclaVictor Garcia
Great point by @laurenjbuchman that People make decisions based on emotion and use brains to rationalize that decision. #smcla@serena
RT @Sheersocial Train employees to use LinkedIn and talk about your business there. Use How-to videos. Don't forget human element! #smclaA Bulldozer.Com
I have a diff take on G+ now. I think the community will be there, so use it now as if they already were. #smcla #b2bsocialMichelle Magoffin
So you're a home builder? Get on pinterest! Show how you make dreams come true. #b2b #smcla@serena
Can LinkedIn recommendations and endorsements be trusted since they're so easy to get? #smcla panelists takes them w/ grain of saltAlice Fuller
Follow @ericschwartzman and he'll send you link tomorrow to FREE courses that will include lifetime access. #smclaSocial Media Club LA
Train employees to use LinkedIn and talk about your business there. Use How-to videos. Don't forget human element! B2B social tips #smclaAlice Fuller
I like the bit about hiring a social media manager over a product manager #smclaJanette Speyer
Says panelists if you're a photographer there's viable audience and engagement on Google+ . #smclaAlice Fuller
Interesting! When asked about using G+ only 2 panelists use it and that's mostly for SEO not necessarily for social #smclaAlice Fuller
Think about Social Media guidelines. Let people have their own voice within the guidelines #SMCLAJanette Speyer
RT @serena: Difference between B2B vs B2C? Slower time tables, more decision makers but still appealing to heart and emotion. #smclapadma mdia & mktng
Great job, #SMCLA'rs! We're trending! @smc_la #B2B http://pic.twitter.com/n1tdp5TLjpChris Lam
Never promise sales during the activation of a Social Media plan. Good advice #smclaJanette Speyer
#smcla b2b @crosscampusla http://instagr.am/p/XEDwyQLTX3/Tracy Bagatelle
Social media is not community is but a part of the channel. Totally on from @rlux but might have biffed the quote. #smclaJeremy Pepper
#smcla Rather than convincing B2B companies why to do social, spend time explaining what's at stake if they don't do it. Via @LaurenJBuchmanZach Servideo
Social media is not community, it's one on one engagement with the brand says @rlux from Adobe. #smcla via @SheersocialMichelle Magoffin
@smc_la Panelists discussing value of active group conversations. These vibrant conversations happen with or without you. Embrace it! #smclaJohn Cassillo
Can LinkedIn recommendations and endorsements be trusted since they're so easy to get? #smcla panelists takes them w/ grain of saltAlice Fuller
+1 Fostering a "follower ecosystem" is much more beneficial than advertising. That's a big message from @StephenGundee and LinkedIn. #smclaZach Servideo
Social media is not community, it's one on one engagement with the brand says @rlux from Adobe. #smcla via @SheersocialMichelle Magoffin
Says panelists leading with guaranteeing sales with B2B social media MRKTNG may not be wise. #smclaAlice Fuller
The strongest marketing tool is a customer advocate. Brands are trying to create a story that makes their service invaluable. #smcla@serena
B2B brand doing well? @hubspot they've created advocates with people who don't even know what they do. #Smcla@serena
If you want to reach your owned base, it's reasonable to consider both paid and earned media #smcla #B2BCharles E. Miller
@smc_la panel – customer testimonials via social is as critical for b2b as for b2c #smcla #sm4b2b @ Cross… http://instagr.am/p/XEBYNxJEC0/Steven Swimmer
I think @erickb just sent 50 #smcla influencers into the arms of @hubspot. You're welcome.AJ
Everyone is trying to create product ambassadors from customers says @LinkedIn rep. As a biz doing social it should be a goal IMO #smclaAlice Fuller
@Sheersocial @hollywoodlvwork thanks got the smile :)Mark Horvath
@hardlynormal Yes @ hollywoodlvwork is my twin in the entertainment world. She says hello! LolAlice Fuller
Here's #smcla panelists @ErickB @RLux @laurenjBuchman and @LinkedIn's own @StephenGundee http://ow.ly/i/1IG4jAlice Fuller
@Sheersocial @hollywoodlvwork am I seeing double? 🙂 #smclaMark Horvath
Says panelist even though you may be doing social media B2B you are still working with people or a person #smclaAlice Fuller
With @Linkedin b2b marketing programs give yourself enough time (3+ mos), agree on goals before you begin with mgmt @StephenGundee #smcla@serena
Gotta love Twitter and social media displays like PulsoViral http://ow.ly/i/1IFWD #smclaAlice Fuller
If you want to reach your owned base, it's reasonable to consider both paid and earned media #smcla #B2B via @chasmillerBossy Interactive
Gotta love Twitter and social mention displays like PulsoViral #smclaAlice Fuller
Thanks again, @pulsoviral, for always making our @smc_la events pop w/ the Live Tweet Wall! #smclaChris Lam
I agree, great discussion on SM for B2B @smc_la #smclaSteven Swimmer
Awesome! RT @sheersocial: Get ready Tweeple for live tweeting from #smcla Social Media Marketing B2BSocial Media Club LA
Get ready Tweeple for live tweeting from #smcla Social Media Marketing B2BAlice Fuller
@ SMC_LA's March event is just getting started here at @CrossCampusLA #smclaAlice Fuller
I love when people are tweeting at our event #smcla thanks @mayhemstudios et alSteven Swimmer
Great point by @StephenGundee – leave enough time for launching a pilot in order to gather enough data. At least a quarter. #smclaS.M. McDowell
RT @newsweek: You don't need a lot of friends to make Facebook work for you. You just need a lot of cash. http://nswk.ly/10vA9z3Alice Fuller
@StephenGundee uses customer data as evidence for undertaking campaigns at @LinkedIn. That's how you exhibit social smarts. @smc_la #smclaJohn Cassillo
We love to see all that social media happening! #smcla #b2bAJ
You're not marketing to a company per se in B2B you're marketing to a person with needs and emotions #smclaAlice Fuller
With @mayhemstudios and @websuccessteam @HotIceMedia at #smcla http://pic.twitter.com/MR8JqSZM7lJanette Speyer
(Social Media) is part of the fabric of who we are everyday. @StephenGundee #smclaVictor Garcia
Big thx 2 our AMAZING panel: @rlux @erickb @stephengundee @LaurenJBuchman & great moderator @ericschwartzman #smcla http://pic.twitter.com/l5JMdiOv2xAJ
Even for small biz, paid media is still something to consider – @rlux #smclaSocial Media Club LA
Zappos has a #socialmedia boot camp for all employees before starting social – @LaurenJBuchman #SMCLA http://pic.twitter.com/IXNCYwaBB6Calvin Lee
Here's your free tip: go to http://namechk.com or http://namecheck.com & grab your username on diff sm platforms. #smclaChris Lam
Love this live tweeting for B2B! Good strategy for companies out there! Tweeting live works wonders for exposure #smclaJanette Speyer
Nice! Is that @jspepper's back? RT @lizhkelly: Fun photo of Q&A @smc_la #B2B social media panel @crosscampus #smcla http://pic.twitter.com/jIZ8qPy5aoSocial Media Club LA
Make sure you are doing your housekeeping aka get digitally social and join the convo. Great key points @laurenjbuchman #smclaadoseofjen
W00t! You guys!! RT @websuccess: #smcla trending http://pic.twitter.com/IEcWAYO0YlSocial Media Club LA
If you want to reach your owned base, it's reasonable to consider both paid and earned media #smcla #B2B via @chasmillerBossy Interactive
When companies don't have social accounts, there'll be conversation about them, they just won't be a part of it – @LaurenJBuchman #smclaSocial Media Club LA
Great job, #SMCLA'rs! We're trending! @smc_la #B2B http://pic.twitter.com/n1tdp5TLjpChris Lam
#smcla is trending on Twitter! http://pic.twitter.com/FLeMEaPJ0XVictor Garcia
The strongest marketing tool is a customer advocate. Brands are trying to create a story that makes their service invaluable. #smcla@serena
Thanks to all our #SMCLA panelists + audience members for a tremendous event on B2B Social Media! We trended on Twitter, y'all! #waytogoSocial Media Club LA
"@thechrislam: Social media is not community. It's one-on-one engagement betw custo & brand. – @rlux #smcla" So. True.Mary Ann
Create good content, because if you don't you're customers won't pay attention. @RLux #smclaVictor Garcia
How to videos 2-3 minutes long are optimized highly in search. Perfect for B2B branding. @erikb #smcla@serena
@stephengundee your @linkedin profile should represent who you are as a professional today. No need to represent your entire resume. #smclaA.J. Bellarosa
Create good content or customers won't pay attention, engage don't blast messages, be part of conversation – @rlux #smclaSocial Media Club LA
Zappos has a #socialmedia boot camp for all employees before starting social – @LaurenJBuchman #SMCLA http://pic.twitter.com/IXNCYwaBB6Calvin Lee
YouTube is now the second largest search engine in the world. @erickb #smclaTracy Bagatelle
Fantastic question: Why do businesses ignore G+? If that's where ur audience is, don't. – @rlux #b2b panel #smclaMadeline Wright
Train employees to use LinkedIn and talk about your business there. Use How-to videos. Don't forget human element! B2B social tips #smclaAlice Fuller
Video should be high up on the list re: content creation. – @erickb #smclaChris Lam
If your audience is on Google+, yes, you should be there. Test it w/ content; but if community isn't there, then I say fall back. #smclaChris Lam
"@smc_la: B2B about starting convo, rather than immediate demand to buy a good or service – @StephenGundee #smcla Social Media for B2B"Calvin Lee
RT @smc_la: Need guidelines – companies get scared about having staff on #socialmedia. Let them have own voice w/in rules @ErickB #smclaLiz H. Kelly
I'm super impressed with the brand reps on the #smcla B2B panel tonight. @rlux from Adobe, and @stephengundee from @LinkedIn. Great insightsMichelle Magoffin
Need guidelines and guardrails for employees to know the rules of the road for social media. #smcla #B2BCharles E. Miller
"@tracybb: #smcla social media is a team sport. Marketing, sales, customer mgmt."Calvin Lee
"Whether you're pitching a business or consumer, you're still speaking with a person looking for a solution" #SMCLASherri Sibiski
@ZachServideo and I like what we're hearing from @smc_la. Investing time, people and money in social has infinite value for business #smclaJohn Cassillo
Or… Use the carrot stick approach. Use employee engagement as part of their annual review @laurenjbuchman #ingenius #engagement #smclaThania Guardino
Our awesome panel is rockin' #socialmedia #B2B tonight @CrossCampusLA!! #smcla http://ow.ly/i/1IGfZSocial Media Club LA
Great Social Media Panel for B2B @RLux @StephenGundee @erickb @LaurenJBuchman @ericscbwartzman #smcla http://pic.twitter.com/3cPyTktqgDTom Palmer