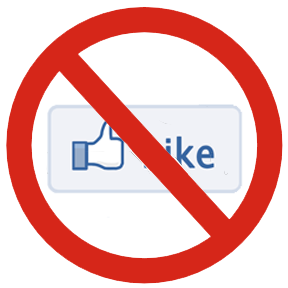 Contests, giveaways, sweepstakes are a great ways to increase Facebook Fan Page likes and engagement. Unfortunately, how we used to conveniently create our own contest rules using likes, comments, and uploaded user generated content is NO LONGER acceptable on the popular social network.  You now are required to use third party applications to do these activities on there. Didn't you get the then new Facebook Promotions Guidelines "memo" back in NOVEMBER 2009? No? Well, it appears you're not alone!
So what does Facebook deem a promotion? Simply, any campaign on its network involving a WINNER or a prize is considered a promotion. Thus it includes giveaways, contests, and sweepstakes.  And if it involves submissions, voting, a certain number or amount of engagement, those too are considered part of a promotion and are no longer permitted on Facebook's platform.
"So I've been doing it the wrong way?" You ask. "Yes!" But as you probably know you're not alone. Just Google "Facebook" and "contest" and see the countless number of brands, companies, and individuals currently putting their presence on the network at risk of being deleted by not following the rules.  Even some social media marketers may not know. One didn't until recently. And that's scary especially when people are relying on us to stay abreast of the constant changes in social media marketing.
Without calling names, just a matter of weeks ago a fellow social media marketer posted a list of ways restaurants could use Facebook to increase business. Suggested contests were included, but there was no mention of Facebook's current rules and guidelines.  So I left a comment on the blog post informing the individual that though her suggestions were good, they didn't follow the social network's present contest rules. See it below:


Though this fellow social media marketer was unaware of Facebook's current promotion guidelines, many are not. As you read I shared with her a great guide outlining them from SocialMediaExaminer.com.  Here are a few important highlights from its article to remember when generating a contest, giveaway, or sweepstakes on Facebook:
To save its own butt, Facebook does NOT want to be involved in contests or promotions initiated by brands, companies, nor individuals. This includes using its platform tools–likes, comments, uploaded content such as photos and videos, and messaging.
You must now use 3rd party applications to administer your contest, sweepstakes, and giveaway campaigns. This includes apps like Involver, Wildfire, and NorthSocial.  To learn more about them just Google "Facebook contest applications" or a similar phrase.
You can no longer randomly select a prize recipient(s) from your list of fan page members because you're using the social network to "collect entries" in your giveaway.  This also means contacting "winners" via Facebook message, chat, or wall posting is no longer allowed.
You CAN choose to highlight a fan page member on your wall as "Fan of the Week" or something similar as long as there is no prize, no submissions, nor voting involved by fellow fan page members.
You CAN giveaway a prize to anyone that likes your page as long as its administered through a 3rd party app on a separate page.
You CAN collect emails and names from fans and visitors to your page as part of a giveaway conducted through a 3rd party application.
Whatever your promotional campaign, the rules and regulations or a link to them MUST be visible for all to see.
For more visual examples and details concerning Facebook promotion guidelines, read SocialMediaExaminer.com's useful post. And please leave  a comment or question below regarding your contest or giveaway. Don't attempt to get away with not following the rules because so many are seemingly getting away with it. It's not worth the risk!