DOWNLOAD FOR FREE BELOW !
A Star Is Born Online:
The Showbiz Up-And-Comer's
Social Media Guide Part 2
STARRING
Google+, Pinterest, and Instagram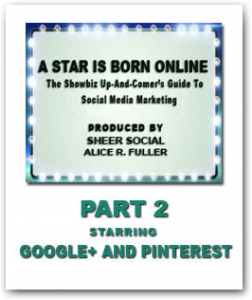 From showbiz execs to performers, social media profiles and online presence are playing the lead roles in entertainment hiring decisions. Even veteran directors and producers now are contractually being required to tweet, blog, and update Facebook pages to promote projects.
That said, as an up-and-comer in showbiz are YOU even "Google-able"? Do you have a public blog or website? Nowadays showbiz decision-makers are seeking more than just talent; they're seeking social influence. Can your tweets and Facebook updates motivate people to take action or generate a buzz online?
"If you have more Twitter followers, it helps in the casting process…A Facebook account has the ability to move product, whether it's tickets sales or whether its downloads"—Eric Kuhn, Social Media Agent, UTA.
In PART 1 of "A Star is Born Online" I explained how to establish a winning online presence and generate a loyal following using social media–Twitter, Facebook, LinkedIn, and more.  In PART 2 you'll learn:
* The basics of growing your audience–highlights from PART 1

* How to better use Facebook's NEWEST tools: Timeline, Subscriptions, AND Facebook Ads basics

* Why Google+ is the most important social platform when it comes to being "Google-able"

* How Pinterest can be a complement to your resume, reel, or headshot

* How To Engage Audiences With Instagram


* Why YouTube changed the channel on video uploads. It's not just about views anymore!
Even those that don't work in entertainment, will find Part 1 and Part 2 of this social media guide helpful. Why? Because social media marketing is now important to every industry. Building a better network of peers and developing relationships with them is key to success in any career. Social media can help do that and more.