Telling It Plain and Simple
There's enough lies, myth, and fairytales told concerning social media marketing.  As an event coordinator or organizer, you want someone to separate fact from fiction in a fun and engaging way and leave audiences feeling as if they've gained some insight, actionable tips, or tools they didn't have before.  You want, Alice Fuller!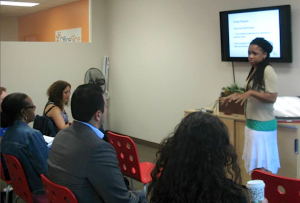 Anyone can do a PowerPoint presentation, but very few seem to cater their social media talks to the audience that's listening.  Aren't you tired of hearing about the importance of social media, and never hearing how to really it apply to your business needs?  Social media has officially grown up and now it's time to get go beyond the surface.
Whether keynote speech, workshop, or webinar, Alice Fuller will deliver relevant and timely social media marketing information to your audience.  Having worked with a range of clients from the creative to the corporate suite, Alice connects well with entertainment professionals, small business owners, and even Boomers!  Remember, AARP is on her client list!
Popular Keynote and Workshop Topics
Creating A Winning Online Presence
Social Media and Film Marketing
Social Media and Journalism
Hootsuite 101
Twitter Isn't Just For The Birds, It's For Business
Format Delivery
In person 45 minute presentation with 10 min Q&A
2-3 hour interactive workshop
1 hour webinar with 15-30 minute Q&A
Call 818-672-6287 or use the site CONTACT page to book Alice for your event!